Examples of the conjugation of German verbs
With the conjugation of German verbs different categories are marked. In this way, what has been said receives a corresponding evaluation. One can, for example, classify the statement made in the present or in the past; one can doubt or strengthen what has been said; one can ask or wish for something; etc. This practical quality of the language can not be considered detached. Here, real existing sample sentences are used. They provide an insight into the use of the individual verb forms.
Example sentences of German verbs and verb forms
Language lives by its use. This also applies to the use of the individual verb forms or the categories thus expressed (e. g. Tempus). For the purpose of illustration, more than 500,000 sample sentences, mainly real sentencesas well as sentences from the project Tatoeba are listed.
These examples are shown in every verb table. A separate view is provided for a complete overview of all sentences per verb. A link leads to the original source. Thus the sentence can be researched in its contextual use.
To demonstrate the use of prepositions related to verbs, the used prepositions are listed separately in all views. The verb can then be formed in conjunction with these prepositions.
---
2017/12 · ★★★★★
Zana says: Super

2017/12 · ★★★★★
Melissa says: Das ist einfach super toll, weil ich mir leichter tue als sonst


All comments
Your opinion?
2017/12 · blog/verben
Beherrschst du alle Regeln der deutschen Konjugation?
Wie werden die Modalverben im Präsens konjugiert und warum? Welche Endungen verwenden Verben wie reden, raten und atmen im Präteritum? Was haben die V ...
mehr
2017/11 · blog/neuigkeiten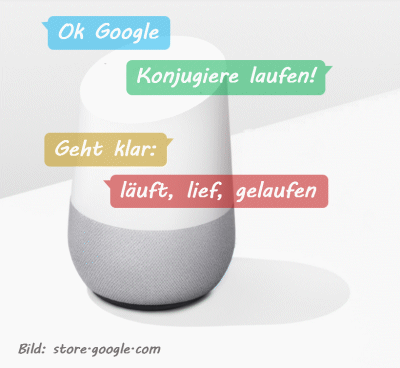 "Ok Google, konjugiere laufen"
"Geht klar: läuft, lief, gelaufen". Oder was hältst du davon: "Konjugiere das Verb schleifen unregelmäßig" oder "Präteritum Indikativ Aktiv von suchen ...
mehr
To the blog
November 2017
Google Home und Facebook Messenger unterstützen nun die Konjugation sämtlicher Formen aller deutschen Verben. Dazu steht der Sprachassistent "Deutsche Verben" zur Verfügung.
Juli 2017
Neben den Verbtabellen und den Beispielsätzen stehen nun auch unzählige kostenlose Arbeitsblätter zur Verfügung.
News