Worksheets for the conjugation of German verbs
Work Sheets for the conjugation of German verbs are used in a targeted manner to learn the forms of the verbs in a challenging way. The teaching materials are selected by the teacher, tutor or lecturer for the respective subject. But also all learners of the German language can do their own tasks with the exercise Sheets. Depending on the type of task, the dialogue and direct communication with other learners is required. This joint learning of the German language is fun and has a positive effect on the success. The use is free (CC BY-SA 4.0.
Free worksheets for German verbs
For the practical work and for the learning and teaching of the German conjugation comprehensive worksheets or exercise sheets are available for free download. All tasks and games are available as a PDF and can be easily printed. Some of the exercises and puzzles can also be used interactively in the browser.
The working materials include complete verb tables, word search puzzles, flash cards, as well as other tasks, games and exercises. All worksheets can be downloaded and used for all German verbs and their conjugation. Some worksheets also allow the compilation of different verbs.
The use as Open Educational Resources (OER) is free under license CC BY-SA 4.0.
---
---
To the word search
E. g. suchen, rätseln
To the flash cards
E. g. lernen, wiederholen
2017/12 · ★★★★★
Zana says: Super

2017/12 · ★★★★★
Melissa says: Das ist einfach super toll, weil ich mir leichter tue als sonst


All comments
Your opinion?
2017/12 · blog/verben
Beherrschst du alle Regeln der deutschen Konjugation?
Wie werden die Modalverben im Präsens konjugiert und warum? Welche Endungen verwenden Verben wie reden, raten und atmen im Präteritum? Was haben die V ...
mehr
2017/11 · blog/neuigkeiten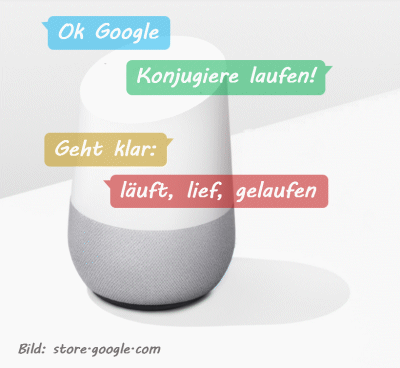 "Ok Google, konjugiere laufen"
"Geht klar: läuft, lief, gelaufen". Oder was hältst du davon: "Konjugiere das Verb schleifen unregelmäßig" oder "Präteritum Indikativ Aktiv von suchen ...
mehr
To the blog
November 2017
Google Home und Facebook Messenger unterstützen nun die Konjugation sämtlicher Formen aller deutschen Verben. Dazu steht der Sprachassistent "Deutsche Verben" zur Verfügung.
Juli 2017
Neben den Verbtabellen und den Beispielsätzen stehen nun auch unzählige kostenlose Arbeitsblätter zur Verfügung.
News